Steven Beresford is a 24 year old who happens to be pretty decent in front of a computer. Steven is a junior software developer. His work experience is similar to many young people trying to get into the tech industry. It's not always plain sailing.
Education
In a bid to learn more about software and garner an education, Steven spent four years studying Computer Science at the University of Essex,
This course was made up of a foundation year and then a further three years. During the foundation year the basics were taught to get everyone up to the same level. In the first year, the focus was database handling and coding websites. The second year was taking the first year's topics and going into more detail, it also had modules like game programming, which included elements of AI and games themselves etc. The final year consisted mostly of application of all the things previously learnt. This course allowed students to pick more specific modules so they could narrow down their learning. For his dissertation Steven created an 80s arcade game that was played over a network so users could play other people.
Experiences
With a degree under his belt, Steven graduated university and went straight into working as a Games Tester at Rockstar Games. Steven explained:
"The work entailed chasing bugs and then handing those over to the development team with snippets of code. I worked a lot of hours especially in the months before Red Dead 2 was released (great game by the way…) and even afterwards. It was challenging and pressurised and I enjoyed it massively. Unfortunately, I didn't have the experience working as a developer and was therefore not able to successfully apply for a development role within Rockstar Games.
Problems getting Work
Talking about the difficulties of getting a foot in the workplace, Steven said, "A lot of the companies that I've applied to in the past required so much experience for their Junior positions that it's almost impossible to get a foot in the door. I can appreciate that many places do want someone who can hit the ground running, especially if it's to fulfil a specific project but it reduces the opportunity for learning.
I was verbally offered a job in Norwich, but after leaving Rockstar I was contacted and told that as a project had fallen through, they couldn't take me on. These things happen!
While Steven can appreciate that some companies may need someone, who is extremely experienced, immediately due to project needs, he adds "it's hard to then gain that experience if places aren't willing to teach new recruits."
Current role
Steven is currently a Junior Software Developer at a large family run company just outside Norwich. Steven described his role as part of a small team. "We make applications for pretty much every team in the company. This essentially means every application used by any team (warehouse staff, HR, shop floor, finance etc.) is built by the development team. User testing is a real part of the position, as it should be with any sort of role. I really enjoy building applications for real people and getting them to review and give feedback so I can make sure it's as useful as possible for them. It's always nice to go into the warehouse and see colleagues using what I've built - it's a really good feeling of accomplishment. When talking about his future, Steven is optimistic, "The dream is to get back in the games industry, but at the moment I'm really enjoying learning at work and then doing a bit more individual learning when I get back home. I also spend a fair amount of time at home playing Untitled Goose Game… I would highly recommend it".
Networking helps
In a bid to broaden his horizons, Steven has found ways of engaging with the local tech community. "I've also started to go to a few more tech meet-up events in the city. I went to RollUp last year and a SyncNorwich event called Lets Sync A Few which I think was great. I was also thinking of taking part in Sync The City next year after seeing how great it looked, I don't drink coffee but maybe if I take part I'll need to…"
---
This article was originally published in the nor(DEV): Magazine 2020, grab your copy below: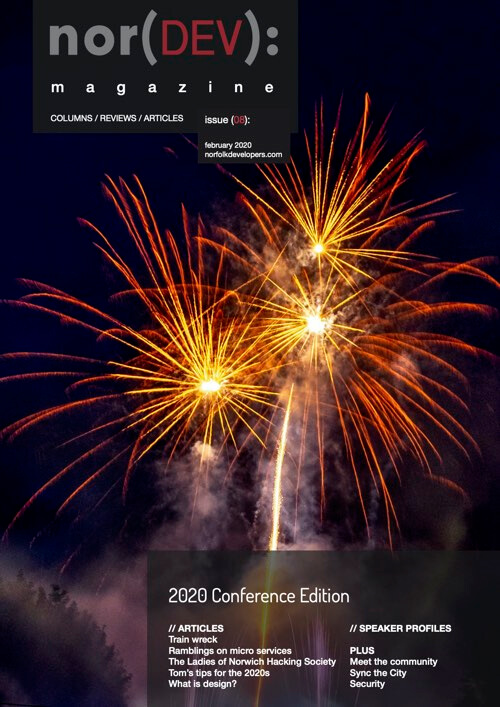 February 2020 Conference Edition
Featuring; Interviews with the Ladies Hacking Society of Norwich. Articles on Train Wreck, Ramblings on Micro services, Tom's Top Tips for 2020, & What is design?
Download PDF