Here at nor(DEV): we're always proud to celebrate achievements in the local tech community. Now's the time to raise a cheer and congratulate many very worthy winners.
East of England Tech 50
Out of an impressive list of tech firms from our region, Norwich based companies managed to secure 8 places in this annual review of the top 50 tech companies in the East, with Pickl coming an impressive sixth. The list of companies is judged by both the public and a more formal judging panel made up with Thea Goodluck from TechNation, Liz Clayburne, Director of the Norwich - Cambridge Tech Corridor, James Gotz, director of ventures, at business support company, Allia, John Gourd, CEO of Cambridge Network and, Jonathan Symcox, editor, of BusinessCloud.
Capturing a trend
As an increasing number of people are using Airbnb accomodation for business and leisure purposes. Pickl soon realised that many owners would have problems getting insurance for their properties as short term lets with constantly changing tenants were notoriously difficult to insure. By recognising this, the company set up as a specialist short term insurance broker and embraced the burgeoning sharing economy. By adding Just Park to their portfolio, Pickl was able to bridge a gap overlooked by many other companies in this field.
Companies like Pickl are breaking the mold through their innovative business.
Tech Nation Rising Stars
This prestigious competition is lucky enough to have had Norwich based, digital staffing platform, Pickr among it's semi-finalists. Sadly, the company didn't make it through to the finals, but to have achieved this status among some very strong national competition is impressive. But Pickr has been shortlisted for many other awards, including the National Technology Awards. Way to go.
Other news
More recently, developers from North Norfolk's, Engage Health Systems, gave a presentation at Cardiff's NHS Hack Day in late January. Rupe is the name of a boy suffering from epilepsy and the presentation was named for him. This easy to use and, cost effective system will provide a record of heart rate spikes and dips during the night. The team consisted of Adam Groom with Paul Peacock and Mark Edmunds.Constructed as an Apple watch app, it can provide real time data to assist carers and parents.
Big alterations in the heart beat can indicate an epileptic seizure while someone is sleeping, or about to have a seizure during the day. By using a companion app on a smartphone, Rupe's mother, teachers and carers would always be aware of the boy's seizure record and will be able to respond quickly in an emergency.
Development is set to start "as soon as possible," said Jon Witte, Engage Health System's managing director.
New developments
With Tech Nation publishing stats showing that the east of England has a digital turnover of £8.33 billion, and Norwich being home to many innovative tech startups and companies, we are a region of tech status and connectivity. UKTechNews (UKTN) published figures in March 2019 that revealed that we are a vibrant region for technology.
The figures show that the East of England growth for start-ups rose by 5%.and, "science and technology firms based in East Anglia secured almost £300m of venture capital investment in quarter two of 2018."
In 2020, Norwich's Rainbird CTO, Ben Taylor, has predicted that. "machine intelligence can enable businesses to solve complex problems before they ever reach the customer."
We are a region on the move.
---
This article was originally published in the nor(DEV): Magazine 2020, grab your copy below: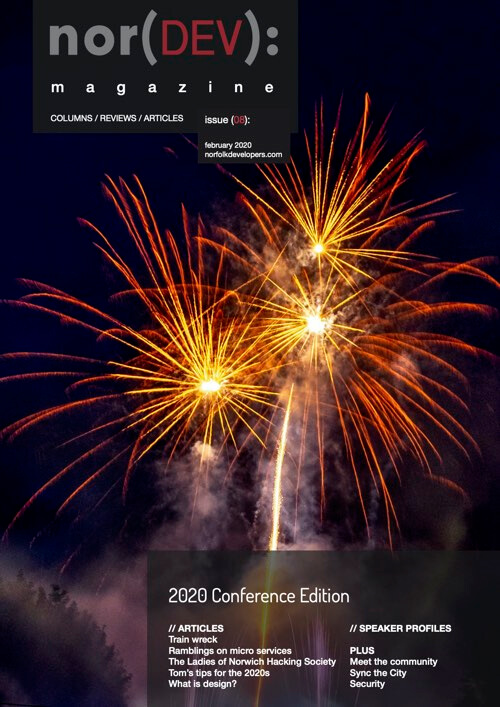 February 2020 Conference Edition
Featuring; Interviews with the Ladies Hacking Society of Norwich. Articles on Train Wreck, Ramblings on Micro services, Tom's Top Tips for 2020, & What is design?
Download PDF